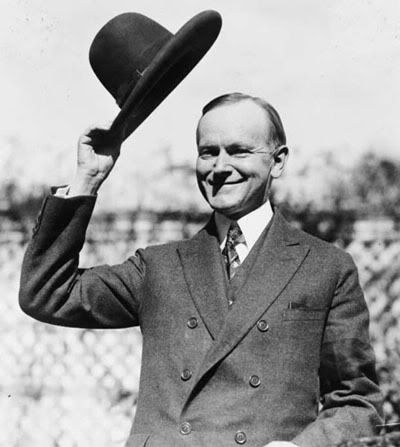 Calvin Coolidge (R-MA), the 30th President of the United States.
Republicans have not always been the proponents of big government, wasteful spending, and irresponsible foreign policy that George W. Bush now makes them out to be. In fact, the man who was the most conservative president of the 20th century was a Republican from Massachusetts (of all places), named Calvin Coolidge.
Coolidge once said that, "Governments are not founded upon an association for public plunder," and, "The men and women of this country who toil are the ones who bear the cost of the government. Every dollar we carelessly waste means that their life will be so much the more meager. Every dollar that we prudently save means that their life will be so much the more abundant."
Imagine that. We once had a President who was against wasteful spending because he realized the crippling effect it had on ordinary people, unlike our sheltered, out-of-touch President who has demonstrated time and time again that "limited government" is not part of his political vocabulary.
When Calvin Coolidge became president, the
Federal budget
was a whopping $3.1 billion dollars. After he left office, the budget was a more restrained $2.9 billion dollars. Coolidge also raised the surplus by $225 million dollars and cut taxes by more than 2/3. George W. Bush, on the other hand, took office to a Federal budget of $1.8 trillion, and will leave with a budget of $3.1 trillion, (more than a 67% increase) and with a deficit of more than $400 billion.
In his eight years as President, George W. Bush
has increased
funding for the Department of Education by over 40% percent, a far cry from the former Republican platform
that called for it to be abolished.
Unlike Calvin Coolidge, George W. Bush rarely, if ever, vetoes a spending bill, with his first veto coming over five years into his presidency. The only reason he even vetoed any bills
at all
, is because they continued provisions to end the war in Iraq, not because he suddenly became concerned about wasting our hard-earned money.
During his stay as President, George W. Bush has not only increased spending, he has also increased
wasteful
spending. In a little over seven years, President Bush has signed into law more than $135 billion dollars worth of wasteful Congressional earmarks, including $1.2 billion spent this year on outdated fighter jets that will never be used.
Such policies are not the policies of true conservatism. The Bush presidency has misused the rhetoric of traditional conservatism to advance an agenda that is neither conservative nor consistent with traditional American values expressed by past Republicans such as Calvin Coolidge. He hardly deserves our continued loyalty and support.