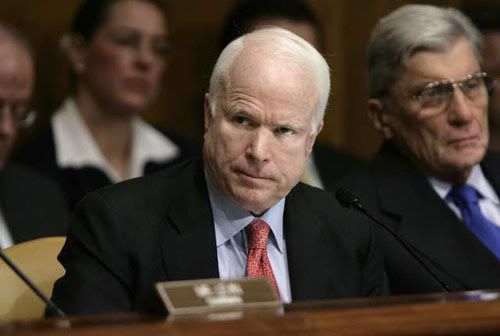 The year 2008 dawned with a startling fact. Right now, there are only 14 million manufacturing jobs left in our country. Industrial strength, which enabled our country to defeat Nazi Germany and Imperial Japan in World War Two, is all but dead in America, gone to an assortment of far-flung third-world countries around the globe.
A former advisor to George H.W. Bush said it right; "Across America
the story is the same
: steel and lumber mills going into bankruptcy; textile plants moving to the Caribbean, Mexico, Central America, and the Far East; auto plants closing and opening overseas; American mines being sealed and farms vanishing. Seven hundred thousand textile workers—many of them minorities and single women—have lost their jobs since NAFTA passed in 1993."
In 1950, a third of our labor force was in manufacturing. Almost sixty years later, it is now less than 12 percent. American manufacturing is in an unnatural death spiral, unnable to compete as free trade opens up vast new opportunities for corporate executives to outsource to countries where workers are just as plenty, but can be paid much less.
Since 2000, Ohio
has lost
over 250,000 manufacturing jobs and Michigan
has lost
over 350,000. Yet, John McCain finished 2nd and 1st, respectively, in the Republican primaries in those two states, with voters there seemingly unaware of his anti-American trade position.
Last week, McCain re-affirmed his stance,
saying that
"On trade, I'm a free trader." A few days before, Hillary Clinton
had said
that if she became president, the U.S. would "opt out of NAFTA unless we renegotiate it, and we renegotiate on terms that are favorable to all of America."
Amazingly, as the Democrats begin recognize the devastation caused to American industry by NAFTA, McCain continues to stick to its failed approach. McCain said last week that we should continue to stick with NAFTA's industry-destroying polcies
because to do otherwise
..."can affect Canadian public opinion adversely."
Yes, my friends, John McCain is supporting a failed policy that has destroyed our economy, because, because, among all other reasons, discontinuing would "affect" Canadian public opinion.
John McCain should be in favor of what is best for President the
United States
, not
Canada.
He says that "The Canadians are now supplying brave young Canadians to the fight in Afghanistan." and claims that re-negotiating NAFTA would cause Canada to stop "supplying" more "young Canadians" to the fight.
As of now, the entire Canadian contigent in Afghanistan
adds up to a grand total
of less than 2,500 men. If John McCain is going to jeapordize millions more American jobs just to make sure that 2,500 Canadians will stay in Afghanistan, it clearly shows him to be callous and unconcerned with the current plight of average Americans in Ohio and Michigan. Both of these states were once thriving with jobs and opportunity, but now are consigned to the hell of John McCain's vision for a post-prosperous America.
Nevertheless, even with his carefree attitude for the plight now facing average Americans, McCain does, on occasion, keep the spin out of the "straight talk."
Two weeks ago in St. Louis he said "The moral of the story is, my friends, is we're not going back to the old manufacturing base of the economy." He failed to mention, though, that without its manufacturing base, America could never have achieved our superpower status that is now slipping away from us thanks to men like John McCain.
Our great founding fathers clearly must have anticipated that we would someday reach this sort of conundrum, for in 1774 John Adams wrote in his diary that "We have not Men, fit for the Times. We are deficient in Genius, in Education, in Travel, in Fortune--in every Thing. I feel
unutterable Anxiety
."