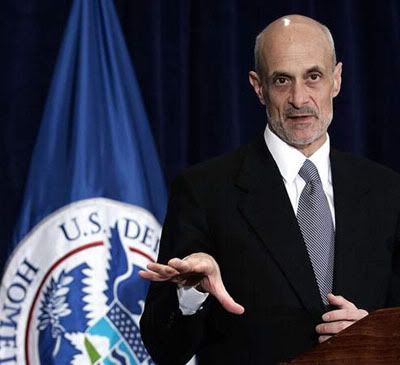 For
almost two years
following the terror attacks of September 11, 2001 the Bush administration believed that the fourth amendment of the United States Constitution, which prohibits warrantless "searches and seizures," apparently did not apply to them.
Here is the text of the fourth amendment:
"
The right of the people to be secure
in their persons, houses, papers, and effects, against unreasonable searches and seizures,
shall not be violated, and no Warrants shall issue, but upon probable cause
, supported by Oath or affirmation, and particularly describing the place to be searched, and the persons or things to be seized."
The opinion that the Bush administration did not have to obey the U,S. Constitution on the matter of warrants was expressed in a secret memo of October 23, 2001 by then-deputy assistant Attorney General, John Yoo.
The existence of Mr. Yoo's secret memo was disclosed this week in a footnote of a separate secret memo, dated March 14, 2003, released by the Pentagon in response to a Freedom of Information Act lawsuit
The footnote states that "Our office (The Department of Justice) recently concluded that the Fourth Amendment had no application to domestic military operations," referring, of course, to Mr. Yoo's secret memo of 2001, which has not yet been released.
This comes as the Department of Defense is being sued for
illegally using the FBI to conduct warrantless domestic searches on its behalf
. These searches were given the green-light to go following Mr. Yoo's memo which said that warrants were not needed by the government to search the emails and calls of American citizens, even though the U.S. Constitution clearly states otherwise.
We conservatives should be concerned that Department of Defense has illegally used the FBI to conduct domestice military operations involving un-constitutional searches and seizures which have unlawfully invaded the privacy of many American citizens, a practice that could have led to bad results, indeed.
Last June, in the case of
Warshak v. United States
, the Sixth U.S. Circuit Court of Appeals ruled that the Federal government, in all matter of seizures and searches, "must be in subordination to the great principle (forbidding warrantless searches and seizures) embodied in the fourth amendment of the Constitution."
Thankfully, in this matter, we have the judiciary doing precisely what it was intended to do, that is, interpreting the Constitution, in this case, the 4th amendment. Those who do not follow our laws know no limitations.