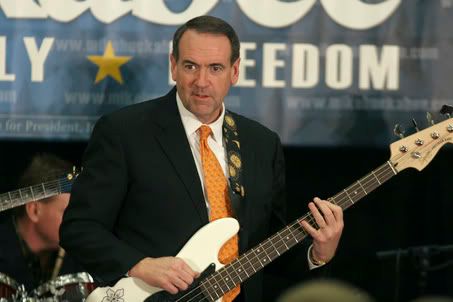 As you may well know, I have been spending a lot of time talking about John McCain's repulsive liberal record, so, it may come as no surprise to you that I am going to talk about something else, that is, who will the
Republican vice president nominee
.
Now, the history of vice-presidents is long and somewhat interesting. Many news organizations have been speculating upon
John McCain's decision to invite Bobby Jindal, Mitt Romney, and Charlie Crist, spend the weekend at his ranch in Arizona
.
Some have brought concerns over whether Governor Jindal is "too young" to be Vice-President, or, in words, he would only further remind people that John McCain is, well----really old. Jindal is 36, so he is not exactly "old," but it is interesting to note that
former Vice-President John Breckenridge was the same age
when he served under President James Buchanan in the 1850's.
In the
"conservative" National Review
I read that John McCain should pick a non-Republican in order to create
"a national-unity ticket."
Naturally, of course, that would mean McCain's dear liberal friend Joe Lieberman who has endeared himself greatly to the big-war branch of the GOP with his desire to fan the flames further in the middle east by bombing Iran.
Another ridiculous choice would be Sarah Palin, who has a persistent (if miniscule) band of blogging supporters whose biggest argument in favor of her seems to be "well, she's a woman!," notwithstanding however, the fact that her only credentials are being governor of a state of 400,000 people for less than a year and a half, before which, she was a mayor of a town of 5,0000--hardly a presidential proving ground.
My expressed desire for Vice-President however, is Mike Huckabee, who seems to be actively campaigning for the job and has a strong national presence among conservative and religious-minded voters, two groups that McCain has hardly made himself fond to. Besides the gallant Ron Paul, Mike Huckabee can count himself as the last man to withdraw from the race, staying in and winning primaries, even after the media had decided that he over-stayed its welcome.
He has far more executive experience than Romney, Jindal, Crist, and Palin combined, and would be a welcome outside asset to the Washington creature McCain.
If I were a betting man, I would certainly put down a bundle that Huckabee is soon to get a new job title.