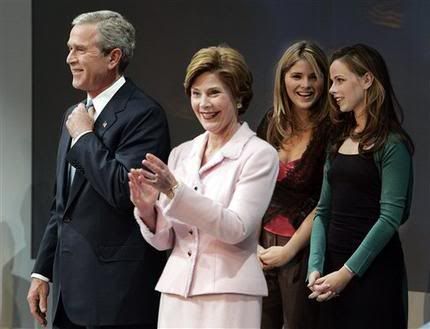 The United States Supreme Court does not bother itself much with what is Constitutional, or else its rulings in the past would have better reflected that concern. Therefore, it came as a great surprise to me to see
the court's recent ruling regarding the treatment of prisoners taken by our military in Iraq and Afghanistan
.
For a number of years before this ruling, those captured by our military in battle have been labeled "enemy combatants," and not "prisoners of war," as had previously been done. This was done by the Bush administration in order that our prisoners need not be given the protections traditionally accorded by us to "prisoners of war," since they were not called by that name.
In the view of Bush and his advisors, giving the name of "enemy combatants" to those who the U.S. military captured, justified treating those prisoners as non-persons who could be indefinitely held in our prisons and be subjected to any type of inhumane treatment--all in the name of "national security," of course.
Such lawyer's logic as this, where a prisoner of war's personhood magically disappears by calling him an "enemy combatant," was used to justify an even more egregious violation of rights. The most disturbing part of Bush's "enemy combatant" policy was that it did not make any distinctions between American citizens and non-citizens.
This was no surprise considering that once our President started taking away human rights from prisoners of war, what was to stop him from taking Constitutional rights away from American citizens? In fact, what was to stop him from doing anything he wanted if it was merely done in the name of "national security?"
Jose Padilla was an American citizen who was arrested in 2002 on allegations that he planned to commit
"acts of terror."
Mr. Padilla was not afforded his Constitutional rights and afforded "due process" of the law, nor was he "informed of the nature and cause of the accusation" against him as the sixth amendment, but was instead classified as an "enemy combatant" at the request of President Bush and subsequently sent to a Navy brig in South Carolina.
Padilla was held there for three and a half years before finally receiving access to a trial--
hardly a "speedy trial"
as is required in the Bill of Rights, which was written to prevent the type of travesty which I have just described.
However, Mr. Padilla was lucky not to appear before a "military tribunal" the type of venue which most "enemy combatants" who are tried, appear at. Detainees tried at a "tribunal" are not allowed to see the charges against them, and evidence extracted from them by torture and coercion is allowed. It is not surprising that our military tribunals never have any acquittals.
The U.S. Supreme Court has done a great service to our Constitution by striking down such treatment of "enemy combatants." Nevertheless, our "conservative" Chief Justice, John Roberts, in his dissent, ruled in favor of letting our President arbitrarily take away the rights of citizens and prisoners of war, because
the "generous" protections
that are in place--as if having one's rights taken away is at all a "generous" practice.
Our Constitution was written to be followed, not nullified at George W. Bush's "generous" discretion. Likewise, the Geneva Convention was agreed to by the United States and many other nations in order that prisoners of war would be treated humanely and not as non-persons.
The fact that the United States has reached a point in time where human rights are being taken away from our citizens and our prisoners of war just because the President "says" that it is required for our "national security," shows that we are getting hopelessly lost in our own hysteria and self-righteousness.
The Presidency was established to make sure that our Constitution is protected and our laws are followed. The President, in essence, is supposed to be a caretaker--a guardian of the Constitution, which written to codify our rights in order that they are protected. Our Declaration of Independence--the first building block of our great nation, was written upon the belief that
all man are created "equal" and born with inherent natural rights from their creator--which no man has the right to arbitrarily take away
.
The Constitution also requires the President to make sure that the treaties which our nation signs and the Senate passes, such as the Geneva Convention, are followed--and not abrogated by made-up technicalities such as labeling prisoners of war as "enemy combatants," in order not to give them the very protections that we promised them when we signed the Geneva Convention and ratified it in the first place.
Our President is supposed to be the chief executive of our nation, not
"the decider,"
as he seems to think he is. His position requires him to defend our nation by following our laws
as they are written
, not to "decide what is best.'' If we were, indeed, ruled by the President's opinion, there would be no need for laws--or the Constitution, for that matter. In fact,
George W. Bush's view of presidential power sounds eerily like the ruler (also named George)
, whose disdain for the rule of law caused this country to be started in the first place.