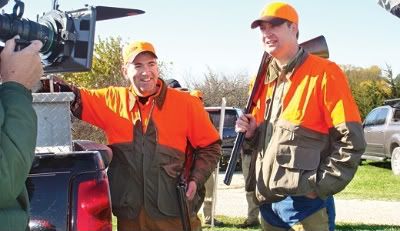 Mike Huckabee is wasting no time in starting his 2012 Presidential campaign. He will be traveling to Iowa next week to promote his latest book, as was
mentioned today in the Des Moines Register
.
Huckabee is also taking time
to promote his former campaign manager, Chip Saltsman, for RNC Chairman
, above such luminaries as Newt Gingrich and Michael Steele.
If the GOP is to be succesful in defeating Barack Obama the next time around we need new leadership and not someone who would give us the same stolid results as Bush cronies Ken Mehlman and Mike Duncan.
Saltsman was able to turn a candidate (Mike Huckabee) with no money and even less national recognition into a force to be reckoned with in the 2008 Republican primaries, defeating multi-millionare Mitt Romney in the Iowa caucus.
Perhaps the reason Huckabee was ultimately unsuccesful in his attempt to win the nomination, though, was the fact that his campaign was largely ignored by the institutional leadership of the GOP, in favor of the continual cascade of frontrunners like Giuliani, Romney, Thompson, and McCain.
We know how they all fared.
Instead of admitting its mistakes and gathering around Mike Huckabee to prepare for 2012, the RNC is whipping itself up into a frenzy over newcomers Sarah Palin and Bobby Jindal and even Mitt Romney--everybody except Mike Huckabee.
Does the GOP want to defeat Obama or does it want to keep on losing???
Retaining leaders from the past will not bring our party new (and better) results.
The RNC needs Chip Saltsman!